CHRISTMAS & NYE
FESTIVE PLATTERS AND CANAPÉS TO SUIT ANY NIGHT OUT
CHRISTMAS & NYE
FESTIVE PLATTERS AND CANAPÉS TO SUIT ANY NIGHT OUT
CHRISTMAS & NYE
FESTIVE PLATTERS AND CANAPÉS TO SUIT ANY NIGHT OUT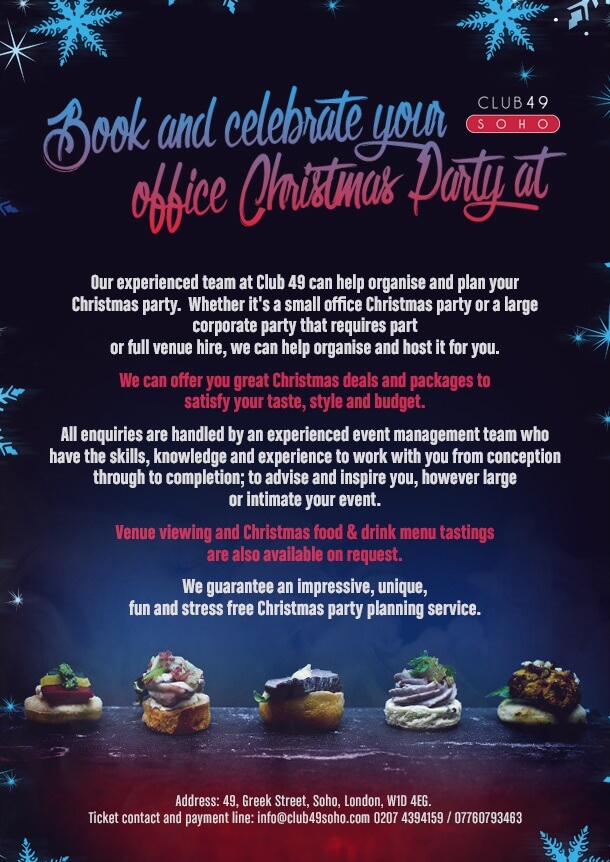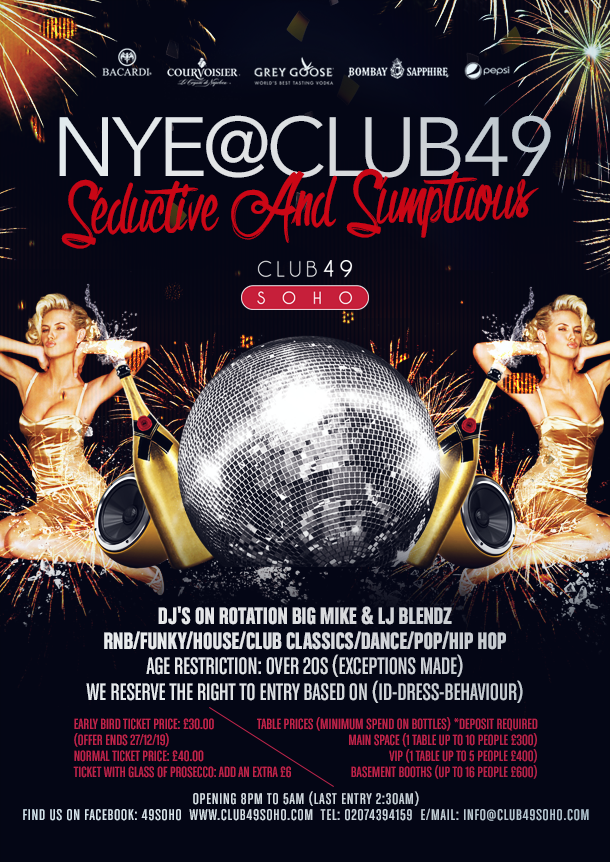 CANAPÉS
CLASSIC SELECTION (50 Canapés)
Cold Canapés only
Duck Pate with Caramelized Orange and Chervil Pastrami with Tomato Chutney and Capers Square of Smoked Salmon with Lemon Zest and Caviar Freshwater Prawns with Marie Rose and Dill Tomato Cream Cheese with Asparagus and Olive Garnish on Croute Quail Egg with Cherry Tomato and Tomato Chutney on Bread.
CONNOISSEUR SELECTION (50 Canapés)
Cold Canapés only
Classic BLT Lemon Chicken with Chervil on Walnut Toast Moroccan Chicken with Apricot on Mini Naan Bread Trout Mousse with Lemon Zest on Herbed Scone Rose of Smoked Salmon with Dill and Cracked Pepper King Prawns with Sweet Chilli and Fresh Herbs Dolce Latte with fig chutney and Grape on Triangle Toast Grilled Courgette with Red Onion Confit Honey Roasted vegetables in Tartlet
MEAT- CELEBRATION SELECTION
Pink Lamb Fillet topped with Lime Pickle and Rice Cake // Cajun Chicken with Apricot, Prune and Raisins on Croute // Carpaccio of Beer with Black Olive Tapenade, Rocket and Parmesan // Rare Beef and Celeriac Remoulade on Toast Croute // Parma Ham and Black Olive Tapenade and Parmesan on Ciabatta.
£2.20 per Canapé (Minimum order 10 per selection)
VEGETARIAN- CELEBRATION SELECTION
Mixed Pepper Provençale on Crostini //
Tartlet of Blue Cheese with Pear and Walnuts // Italian Bruschetta with Sundried Tomato, Mint Oil, Pine Nuts and Basil // Thai Scented Vegetables in Sesame Pancake wrapped in Chive // Pepper dew Pepper filled with Spiced Guacamole.
£2.20 per Canapé (Minimum order 10 per selection)
FISH- CELEBRATION SELECTION
Seared Tuna with Tomato Sauce on Sesame Toast // Tricolor of Smoked Salmon Nori Tower Salad Nicoise on Potato Disc // Rose of Smoked Salmon with Keta and Creme Fraiche on Blini // Parcel of Smoked Salmon Fillet Crab.
£2.20 per Canapé (Minimum order 10 per selection)
Christmas Canapes
(Meat)

Roast Turkey in Yorkshire pudding with Cranberry Sauce.
Open Mini Venison Burger with Beetroot Relish.
Honey glazed rosemary sausages wrapped in pancetta.
Mini Christmas Dinner.

(Fish)
Smoked salmon roulade with dill and caviar on croute.
Prawn cocktail lollipop with spiced Avocado mousse & cherry tomato.
Scallop Pops wrapped in Bacon with lemon zest and chive.

(Vegetarian)
Garlic Crostini with goat cheese and red onion marmalade.
Wild mushroom and stilton tartlet with chive and infused truffle oil.
Walnut scone with brie and cranberry chutney.
Courgette Christmas candle.

£2.25 per canapé, minimum order 20pcs of each type)
PLATTERS
FINGER FOOD PLATTER (40 pieces in total)
Asparagus Spears Wrapped with Parma Ham/
Tandoori Fragrant Chicken with Coconut and Mango Chutney on Naan Bread/
Cajun Infused Salmon Skewers/
Mini Pitas Filled with Mediterranean Vegetables and Rocket (8 pieces)/
Boursin and Red Onion Jam Individual Tartlets (8 pieces)/
Homemade mini Vegetarian Pizzas Vegetable Frittatas/
Slow Roasted Tomato, Boccocini and Pesto Skewer/
SKEWER PLATTER (40 pieces in total, 8 of each)
Chicken Satay/ Salmon on Lemongrass Skewer/ Boccocini and Cherry Tomato drizzled in Pesto/ Moroccan Lamb/ King Prawn with Chilli and Coriander/
SNACKS (AVAILABLE UNTIL 11PM ONLY)
SUVLAKI SKEWERS (3 skewers)
Mixed Skewer: 1 pork, 1 chicken, 1 lamb
Pork: Pork in Lemon Glaze

Chicken Thighs: Marinated in florina peppers and tarragon

Lamb Mince: Mixed herb salad and sauce

Vegetarian: Chios island Mastelo cheese, vegetables in honey and mustard
SALADS
Greek Salad: Cherry tomatoes, cucumber, onion, green pepper, feta cheese, Kalamata olives, e.v. olive oil, oregano

Cretan Salad: Barley rusk, cherry tomatoes, crumbled feta and capers
SUVLAKI WRAPS
Pork: Plum tomatoes, parsley glazed red onion, tzatziki

Chicken: Plum tomatoes, lettuce, lemon mustard

Lamb Mince: Mixed herb salad and sauce

Vegetarian: Chios island Mastelo cheese, vegetables, turmeric sauce
SIDES
Greek Salad/ Cretan salad/ Lentil Salad with crumbled Feta/ Fresh Chips sprinkled with oregano.